After four very enjoyable months in Stockholm, I decided to see a little more of Scandinavia and headed off to Tromsø, a little more than 200 miles North of the Arctic Circle.
Considering the distances involved, I decided to park my car at Oslo Airport and take an SAS flight to Tromsø, where I spent three nights.
Tromsø is a unique and truly breathtaking city, combining snow capped mountains, crystal clear fjords and the somewhat surreal phenomenon of the midnight sun.
My first experience of Tromsø was a stroll around the pretty harbour and across the bridge to the Arctic Cathedral.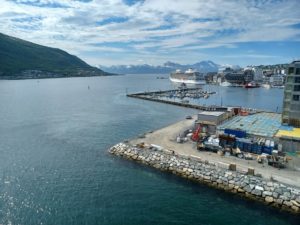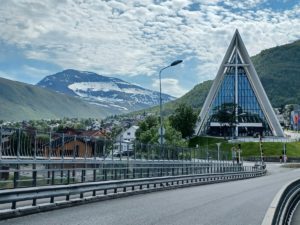 The real highlight of the day was a ride up to the Storsteinen mountain ledge of the Fjellheisen cable car.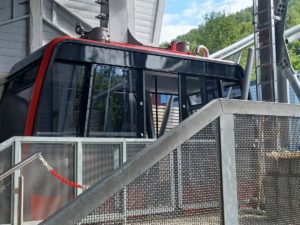 The cable car makes the 421m ascent in just four minutes and the breathtaking views are simply not to be missed.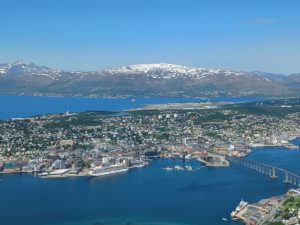 The following day, I decided to take things a little easier and stroll along some if the beautiful fjordside paths out to Tromsø Folkeparken and the Southern Beach.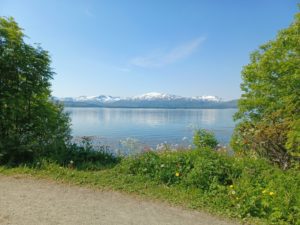 As it was amazingly 27°C on the day of my visit, the beach was too crowded for me to get any photographs, but suffice to say it is a unique experience, with views across the fjord to the snow capped mountains beyond.
The only regret I have about my visit to Tromsø was not managing to take the midnight RIB (rigid inflatable boat) cruise. These run for three hours from 10pm to 1am when the midnight sun shines on Tromsø. After two very full days and with an early start on the third day, my heart was willing but my body was not.