Last Monday, I decided at the last minute to take off to Barcelona for a few days.
Barcelona is a lovely city and I will be reviewing it in the coming days, but getting there and back was far from straightforward.
I was booked on a direct flight from Zürich to Barcelona on Swiss, returning via Munich on Lufthansa.
I got to Zürich a few hours early and checked out a couple of the Priority Pass lounges, which again I will review in the next few days.
Around an hour before the scheduled departure, I got the dreaded cancellation SMS from Swiss. I had been rebooked on a connecting flight via Frankfurt, with a 28-hour delay. Needless to say, on a 4-day trip, this was totally unacceptable.
By this stage, Zürich Airport had descended into chaos, with many Swiss and Lufthansa flights cancelled. As I waited in the 2-hour queue for the transfer desk, I researched other available options.
I found a Vueling flight some 4 hours later, bookable under an Iberia codeshare, which I know that Swiss are capable of booking. Mindful that there were very few seats left on this flight, I called Swiss Customer Service while standing in the queue.
Unfortunately, Swiss flatly refused to rebook me on that flight, regardless of their obligation under the EU261 Regulation to rebook passengers in the most expeditious manner possible.
As this was clearly in contravention of that condition, I took matters into my own hands and booked myself on the Vueling flight at a cost of €329.79.
The last step was to make sure my return was not cancelled when I no-showed the unacceptable rebooking option. This was done when I finally reached the transfer desk.
The final insult was delivered when I was informed that the cancellation was due to "weather".
Forgive me if I am somewhat sceptical of this, when the only cancellations were from Swiss and their parent company Lufthansa, but every other airline was flying with short delays.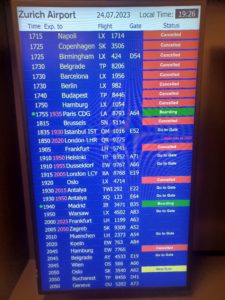 Are Swiss claiming they were subject to different weather conditions than British Airways, Finnair, SAS, Tailwind, Sun Express and Vueling?
Either way, a reasonable attempt to mitigate the delay was clearly not made, as I managed to beat their rebooking option by 24 hours.
As it happened, I arrived at my hotel in Barcelona at 1am, a delay of around 5 hours. Actually not a disastrous result, but only because I fixed the issue on my own initiative.
Naturally, this required me to pay upfront for the replacement flight, but this is recoverable under the relevant regulations, when the airline has failed to provide a reasonable alternative.
Most Ombudsman services and regulatory bodies will generally back up your claim if the airline has refused to rebook a clearly available same day alternative.
I will write an update with the result of my claim from Swiss, which will include the cost of the replacement flight plus €250 cancellation compensation.
As a side note, the Vueling flight, which I will also review in the coming days, was a pleasant experience and exceeded my expectations.
Swiss however, which is usually a very good airline, left a lot to be desired on this occasion.